A Manitoba-based Filipino youth advocacy group joined efforts to protest against the presumed winners of the recent Philippine elections, fearing a rewriting of history and further human rights abuses. 
The Philippine election is at the heart of discussions in the Filipino community due to the big-name candidates involved — most notably, Ferdinand "Bongbong" Marcos Jr., former senator and son of the late dictator, Ferdinand Marcos. 
Results available to date show Marcos Jr. and Sara Duterte ⁠(Marcos Jr.'s running mate as vice-presidential candidate and daughter of Rodrigo Duterte, the Philippines' incumbent president) as foregone winners.  
As the children of political leaders who have often been compared to each other by critics for their human rights violations, some fear that history will be repeated and erased. 
Rejecting Marcos Jr. and Duterte 
International Filipino groups spoke out against the partial results that show a landslide victory for Marcos Jr. and Duterte, citing many issues. 
The Philippine Election 2022 International Observer Mission (IOM) released a report documenting instances that have led to the widespread skepticism of the election results. 
"They (the elections) were marred by a higher level of failure of the electronic voting system than ever before, along with rampant vote-buying, disturbing levels of state and military orchestrated red-tagging of candidates and parties including numerous incidents of deadly violence," said Séverine De Laveleye, commissioner of the IOM, in a press release.
Many Filipino-Canadian advocacy groups have made statements or held rallies rejecting the Marcos Jr. and Duterte win, including Anakbayan Manitoba. 
Anakbayan (meaning "children of the nation") Manitoba is part of a larger international youth organization that includes six groups across Canada.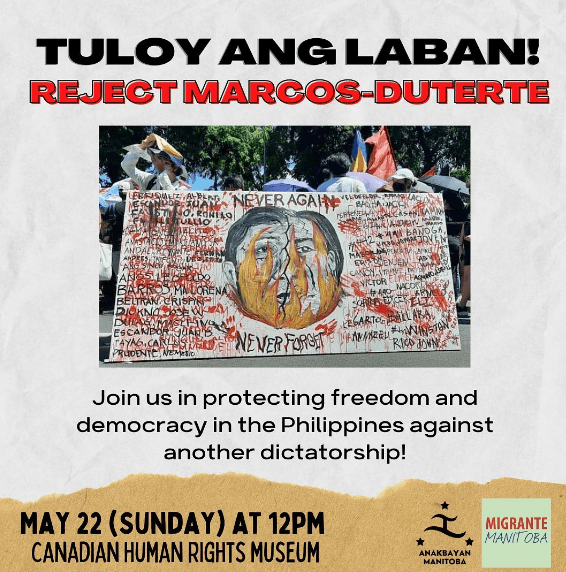 The group held their rally on May 22, outside the Canadian Human Rights Museum in Winnipeg.
Although the members anticipated fraud and disenfranchisement, seeing the partial results was frightening and disappointing. 
"It was still a disbelief because it's one thing to say 'Yes, this is a huge possibility to happen,' but for us to actually see it and to now live it — it's a lot more work to be done now post elections," said Stefanie Martin, member of Anakbayan Manitoba.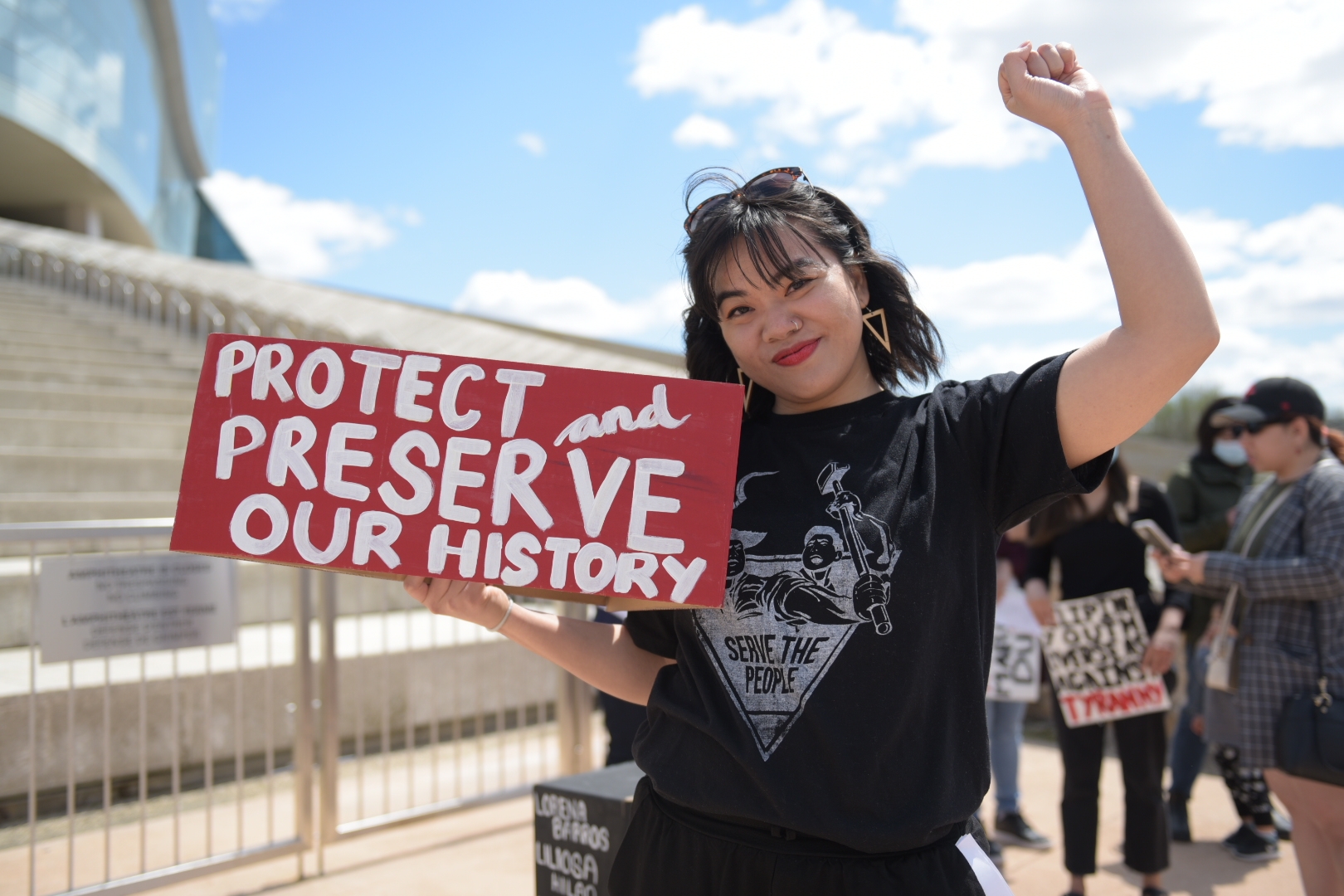 Involving the youth of the diaspora
Winnipeg has the third-largest Filipino population and the largest Filipino population per capita in Canada. Martin stated that mailed ballots from Manitoba's overseas votes are under the jurisdiction of the Philippine consulate in Toronto, which reported a total of 39,108 registered voters. 
Despite this large voting base, vocal critics of the election results have been criticized by some Philippine residents who claim they are "disconnected" from the country's everyday reality.
Anakbayan Manitoba member,  Alex Payawal, stated that it is discouraging to have their voice diminished when their work stems from wanting to see the Philippines prosper. 
"To see people disregard that work and say, 'Oh, you don't speak Tagalog. You lived here (Canada) for most of your life. You shouldn't be saying anything about it' — it is really disheartening," said Payawal.
"We are the bridge to what's happening here in the diaspora and in the Philippines," added Martin. "…Whatever happens in the Philippines affects what's happening to us here and we have to know our roots."
Marcos and the diaspora
Comments invalidating the voices of the diaspora youth overlook part of the Filipino diaspora's history.
"I think it's very important for us to be having this conversation in the diaspora because a lot of people will be affected economically as we have seen in the administration of Marcos Sr. [and] the institutionalization of labour export," said Ana Ilagan, Anakbayan Manitoba member.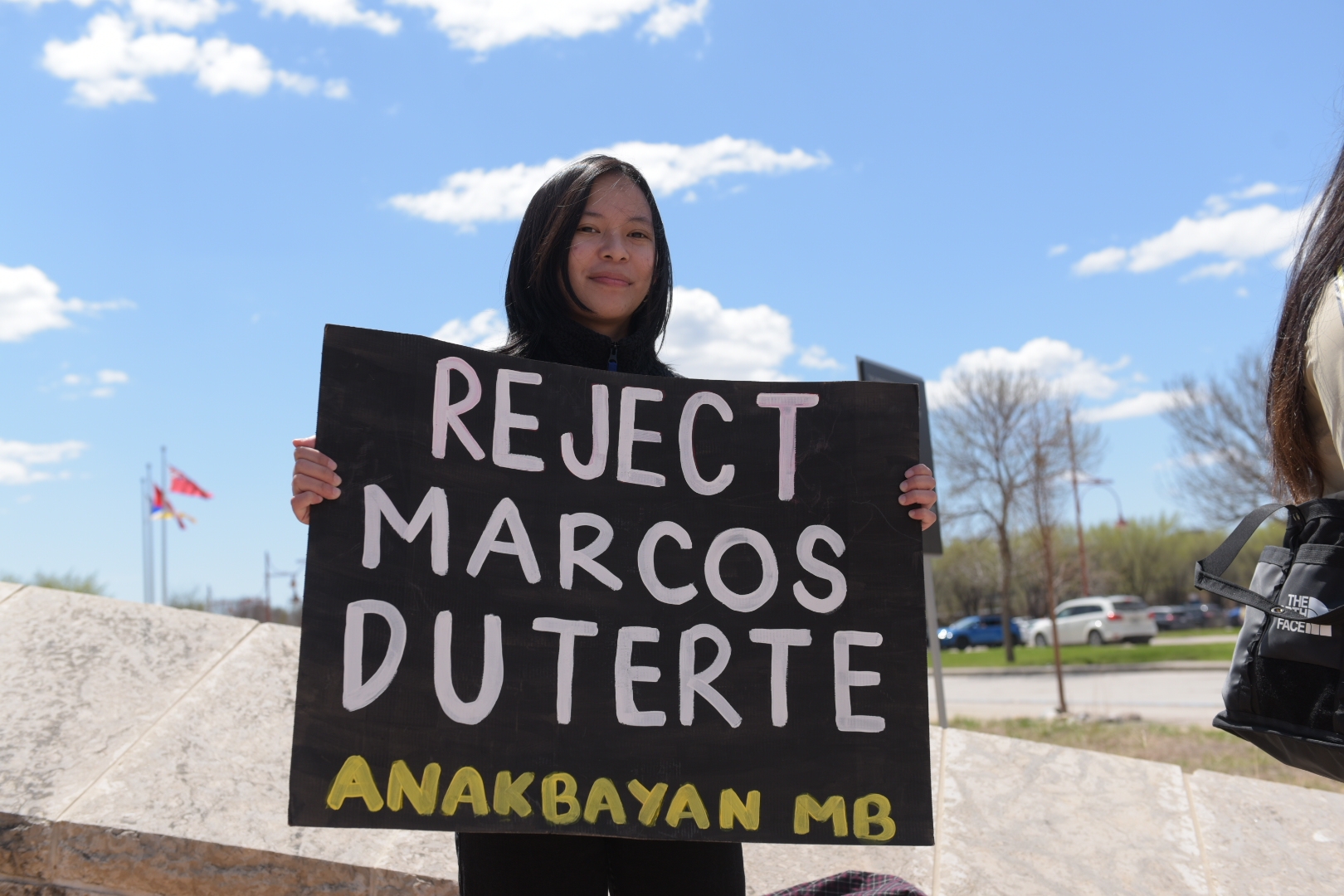 Marcos Sr. ruled the Philippines for 20 years, exercising authoritarian power before being ousted by the People Power Revolution in 1986. During his reign, in 1972, Marcos Sr. declared martial law to counter an alleged communist insurgency. 
In the almost 10 years of martial law, the Philippines experienced severe economic depression, lack of job opportunities, and political oppression. During this time Marcos Sr. created a policy to encourage emigration to stimulate the economy. This policy, combined with the rising violence, and poor living conditions caused thousands of Filipinos to seek employment abroad.
Even after the Marcos Sr. regime, the Philippines could not recover and the country's overseas workers continue to increase in number. 
This issue, Ilagan stated, will continue with the transition to Marcos Jr.
Concerns for the education system
Kimi Saddul, another Anakbayan Manitoba member, stated that as a student in the Philippines he felt the system favoured the idea of overseas Filipino workers (OFWs).
"It's like a breeding point for migration, where I feel like the foundations and the system itself is trying so hard for Filipino students to migrate, the system is trying to formulate, and mould us to be foreign workers or OFWs," said Saddul.
Celinda Roche, also an Anakbayan Manitoba member, went to school in the Philippines for a short time but noted the inaccessibility or poor quality of education there, which she states can worsen with Duterte leading the education department. 
"We're going to have [a] really heavily censored history — and even now…we still glorify our colonizers, we still glorify the people who took advantage of us who treated us horribly, who took away our culture, and it's just dehumanizing and disgusting. And it feels like in a sense…Filipinos brainwashing other Filipinos," said Roche. 
The members stated that they fear the transition of power to Marcos Jr. and Duterte will cause historical revisionism and all the consequences that can come with it.
_____________________________________________________
This story was written for the Winnipeg Free Press' Reader Bridge as part of a partnership with New Canadian Media.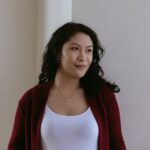 Rhea Lisondra is a Carleton Journalism and Humanities graduate and is based in Trenton, Ontario. She reports for New Canadian Media and is a co-host on the podcast AZN Connection.