Barely a month after starting their new lives in Canada, a Nigerian couple are grieving the death of their six-year-old son, who was taken off life-support at Health Sciences Centre on the weekend.
The boy never regained consciousness after he was found floating in the outdoor swimming pool at about 2 p.m. on July 21 at the Valley Gardens townhouse complex the family had moved into just two weeks earlier.
Sources close to the family say the boy — the eldest of the couple's three children — was left in the care of a trusted neighbour at the Concord Gardens complex at Concordia Avenue and Louelda Street while his parents were running errands.
The family arrived in Canada as landed immigrants earlier in July and had been slowly integrating themselves into Winnipeg's African community. Parishioners at a Windsor Park church the family attended offered support and paid visits to the parents at the hospital over the increasingly grim two-week vigil, sources said.
Residents at the apartment complex made frantic attempts to save the boy's life before paramedics arrived, one said.
"At first I saw a whole bunch of people outside running around screaming. I went to go check what it was outside and suddenly just started seeing someone doing CPR… really fast," said 17-year-old Jude Jacquett.
"Everyone was freaking out."
At the time, the Winnipeg Police Service said it was investigating the tragedy, standard practice anytime a child suffers life-threatening injuries or death. Investigators say it is still being treated as a medical incident.
The incident bears striking resemblance to a similar accident four years ago in Saint Leonard, Que., when a six-year-old Nigerian boy drowned in a community swimming pool not long after his family had moved to Quebec from the United States in 2018.
In 2016, a 12-year-old boy and 11-year-old girl, both immigrants from the Philippines, drowned near the popular boardwalk area at Grand Beach.
Data in a report from the Lifesaving Society of Canada that year indicated new Canadians aged 11 to 14 are five times more likely to not know how to swim compared with Canadian-born youths.
Jorge Fernandez, CEO of Winnipeg's Immigrant Centre, said information on water safety is part of an introductory package given to all newcomers served by his organization.
______________________________________
This story was written for the Reader Bridge as part of a partnership with the Winnipeg Free Press.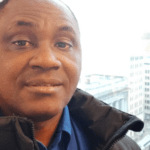 Emmanuel Nwaneri is a journalist with about 27 years of writing, travel and journalism experience in Nigeria, South Africa and Australia. He moved to Johannesburg in South Africa where he spent 10 years as a writer, journalism tutor and commentator. His time in South Africa afforded him the chance to observe the fast-changing dynamics of a country popularly-known as "a rainbow nation." He relocated to Winnipeg with his family in 2018 where he has since found interest in the Customer Service industry. He has published Once Upon A Woman and is working on a second work of fiction.