Imagine being asked on a flight into Canada to complete a short questionnaire as proof of your nationality as a Canadian. Not a problem, really. Except that the short test comes only in the French language. Now, that would be curious. 
Last week, budget Irish airline, Ryanair, announced a test in the Afrikaans language for all its South African passengers. It's reason? The test was aimed at addressing what it called "rising" cases of travellers using fraudulent South African passports on its flights, which attracts a hefty fine of US$2,500 to the airline for each passenger.
What this suggests to me is that Ryanair is attempting to do the job of South Africa's inefficient and often-corrupt immigration officials, an arm of its incompetent Home Affairs Department.
The international uproar has focused squarely on the fact that the questionnaire was written in Afrikaans — the language of South Africa's hated, white former rulers — which is today spoken as the first language of just 13 per cent of South Africans. This, however, does not take away from the fact that if South African Immigration did their job diligently, there would be no need for Ryanair to adopt such a strange practice.
But the country's Home Affairs Department joined the chorus of condemnation by insisting that, "We are taken aback by the decision of this airline because the department regularly communicates with all airlines to update them on how to validate South African passports, including the look and feel," it said in a statement carried by German news network, Deutsche Welle.
The questionnaire has caused outrage amongst South Africa's majority Black population, who overwhelmingly dominate the social media-driven criticism of the move by Ryanair.
Just as Canada has two official languages — English and French — South Africa has 11 official languages, but Ryanair has not explained why it chose Afrikaans. The airline, which runs flights around Europe and is hugely popular for its affordable tickets, insisted in a statement to the BBC, that it had to take the extra measure because of "substantially increased cases of fraudulent South African passports being used to enter the U.K."
Just last month, a senior South African Home Affairs Department official Hlahla Mathebula was arrested along with four South African citizens as part of a passport fraud syndicate being run by Pakistanis in South Africa. 
Ryanair and other international airlines that carry South Africans can simply not wait for the authorities to weed out the bad eggs in their midst, while they foot the bill for hefty fines every time a passenger is caught with fake documents.
So what are the chances of airlines such as Ryanair asking you or me to fill out a test in French on a flight into Canada? Very slim so far, considering that Canadian documents are not for sale by Immigration officials who operate within a largely foolproof system.
This story was written for the Winnipeg Free Press' Reader Bridge as part of a partnership with New Canadian Media.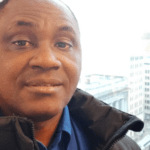 Emmanuel Nwaneri is a journalist with about 27 years of writing, travel and journalism experience in Nigeria, South Africa and Australia. He moved to Johannesburg in South Africa where he spent 10 years as a writer, journalism tutor and commentator. His time in South Africa afforded him the chance to observe the fast-changing dynamics of a country popularly-known as "a rainbow nation." He relocated to Winnipeg with his family in 2018 where he has since found interest in the Customer Service industry. He has published Once Upon A Woman and is working on a second work of fiction.