There are moments when we like to sit and ponder about the bygone times, but few of us immerse ourselves in memories very often. At times, when we need inspiration, we usually want to circle back to our roots and early experiences. Roots, that mighty word, define us until the very last moments of our lives. This, to me, is what the podcast Darmiyaan is about: it is meant to invoke deeper emotions and make you want to ruminate, "What life would be like if…?"
Created by Aparita Bhandari, a radio journalist based in Toronto, Darmiyaan is a fictional podcast that mixes dialogue in Hindi and English. It has a total of six episodes, including a prologue and an epilogue. Each episode is a build-up to the next, until the series ends on a note of hope and aspiration, leaving the listener with a smile.
The word "Darmiyaan" is an Urdu term meaning "emotional differences": a suitable title for a tale of two old friends, Aditi and Akash, who are now settled in two different time zones, Toronto and Singapore. The podcast walks the listener through the beguiling lanes in Delhi, India, stirring the inner sentiments of anyone who grew up in this city. Being an immigrant in Toronto after having spent a significant part of my life in Delhi, I found myself deeply moved by Darmiyaan.
The scene for the story is set in the prologue, when a very hesitant Aditi, settled in Toronto for the last 20 years, decides to get in touch with her old lover and a very dear friend Akash, who lives in Singapore with his wife and kid. A hint of nervousness combined with excitement comes through very well in the sounds of the text messaging, call, and the conversation between Aditi and Akash.
A sentimental journey through Delhi
Finally, after ages, Aditi and Akash meet in Delhi, where they grew up and went to high school together. They both reflect the soul of a typical Delhite, excited and sentimental to be in their hometown. For me, the highlight was the mention of Delhi landmarks such as Wengers and Kaventers eating joints or the Jain bookstore, but anyone coming from Delhi will immediately relate, and just listening to the sounds of those places integrated into the podcast will bring a smile to their face. It will make you want to rush to those stores and grab that chicken patty and that milkshake.
While on their walk, Aditi and Akash decide to go for a movie, so they take the subway. The very sound of the DMRC (Delhi Metro Rail Corporation) would release the floodgates of emotions for any Delhite. I am sure no one can deny the emotions associated with their Delhi Metro rides or the memories they have of the experience.
As the two friends sink into their conversation, we get to know them as movie enthusiasts, and we learn about their break-ups, immigrant experiences, and life stories. They also engage in a typical Indian argument between a tea lover and a coffee lover.
The sounds of the city
Darmiyaan is also rich in typical Delhi-street conversation like applying henna or eating gol gappa and chole bhature (Indian street food). Akash draws smart comparisons between Delhi and Singapore, showing how both places are progressive in their own ways.
The walk to old shops such as Raymond and Bata turns into a walk down memory lane, as Aditi and Akash recall all the minute anecdotes from their past lives in Delhi. At this point, the podcast becomes an excuse for introspection. It highlights what the protagonists miss in their current chosen lives, and the opportunities lost. It becomes a time machine.
While the emotional impact of Darmiyaan is very powerful, a few things could have been polished to make the podcast better. The conversation could flow a little faster if the occasional long pauses in between the dialogue were reduced. While the slow pace is done purposely to reflect the emotions well, thicken the plot, and let the audience sink into Aditi and Akash's journey, a podcast must also keep the listener engaged.
In terms of the structure of the entire series, the episodes could have been shortened to 20 minutes from 35 minutes to hold the audience's interest throughout.
On the other hand, the sound effects used in the podcast are superb. When the protagonists go to a pub and wait for a table, the background noises capture the atmosphere of the place very well.
Overall, I recommend listening to Darmiyaan to anyone from Delhi who wants to reconnect to the city and bring back their own Delhi memories through Aditi and Akash's journey. By the end, the listener is left with a reflection on the meaning of the small things in life and the importance of learning to appreciate them.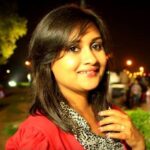 Since her youth, Seemanti enjoyed observing topical conversations. Her journey as a Public Relations professional enhanced her writing skills and jumpstarted her writing trajectory on various subjects. Over the last seven years, she worked with agency giants such as Weber Shandwick, MSL, AvianWe in many sectors such as automobile, consumer durable, manufacturing, healthcare, pharmaceutical, corporate social responsibility. Seemanti holds a Post Graduate Diploma in Mass Communication from New Delhi, India, and a Bachelor's Degree from Bangalore University, India in Communicative English, Journalism and Psychology.
Canada
Darmiyaan
Delhi
immigrants
India
podcast
review
Singapore
Toronto