It has been celebrated since 1834, but Canada has only recently officially recognized Emancipation Day.
On Aug. 1, 1834, the Slavery Abolition Act came into effect, freeing over 800,000 enslaved Africans across the British colonies. In 2021 the Canadian House of Commons officially designated Aug.1 Emancipation Day.
In Cambridge, Ont. yesterday, the city held its inaugural Emancipation Day celebration at the Civic Square. The event was organized by Rhythm & Blues Cambridge, which supports and promotes the local Black community.
The crowd got their blood flowing with exercises led by Guyanese Fit Chick, then watched a pan-African flag raising, a drum performance by Caribana Arts Group's Fiyah Brigade, and more.
Anti-slavery views were popularized by the introduction of the Act to Limit Slavery in Upper Canada in 1793, and several individual legal battles that poked holes in the institution of enslavement in the Atlantic provinces, and what is now Quebec.
Rumours about abolition in what is now the Niagara area led Adam Voorman, a Loyalist sergeant, to try to sell Chloe Cooley, a Black woman enslaved to him, to someone in the United States by tying her up and putting her in a boat across the Niagara River.
Lieutenant governor John Graves Simcoe and John White, the attorney general at the time, tried to lay charges against Voorman but failed. Graves set out to introduce legislation to abolish slavery; that became the Act to Limit Slavery in Upper Canada.
Although the Slavery Abolition Act freed few enslaved people in British North America, it marked Canada as a land where enslaved African Americans could be free. Between the introduction of the Slavery Abolition Act in 1834, and the U.S. 13th Amendment in 1865, tens of thousands of enslaved Black Americans escaped to freedom in Canada through the Underground Railroad.
Former MPP for Kitchener Centre, Laura Mae Lindo (left), speaks to the audience with Rhythm & Blues Cambridge founder, Marjorie-Ann Knight, by her side. Photo: Serena Austin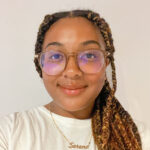 Serena Austin is a recent graduate of Laurier Brantford's digital media & journalism program and has spent the past year as Editor-in-Chief of their campus newspaper, The Sputnik. She found her love for journalism in high school as a co-op student at the University of Toronto Scarborough Campus' publication, The Underground, and has since had her work published on DMJZone.ca, and the Brantford-Brant Chamber of Commerce's magazine, InTouch. Serena is passionate about the coverage of labour, education, and housing issues and hopes to keep the passion burning in her role as President & Publisher of Wilfrid Laurier University Student Publications.