Campus
Duration
9 Weeks (22.5 hours)
Credential Awarded
Microcredential
School
Registration is now open for a cohort beginning October 5, 2023, and will consist of the same modules, led by many of the guest speakers mentioned below.
Interested candidates are invited to apply. To register, contact: George Abraham publisher@newcanadianmedia.ca
---
About the Program
Some of the biggest issues in the news today draw journalists into complex questions about race, religion and ethnicity. To get the story, journalists may have to seek and draw out diverse perspectives, navigate stereotypes, establish trust and ask difficult questions about religious, cultural and historical traditions. This puts a special responsibility on journalists and media organizations.
This microcredential helps you develop equity and inclusion-informed skills to incorporate into your reporting processes, leading to more inclusive journalism practices. You will develop a set of skills to support fair and accurate reporting of a wide range of groups and individuals, particularly audiences who have been historically, and continue to be, misrepresented or underrepresented in Canadian media.

This microcredential has been developed in collaboration with Seneca College and is partially funded by the Government of Canada.
What is a microcredential?
A microcredential is a short course designed to help you upskill, reskill and boost new skills development. Seneca's career- and profession-based microcredentials provide focused learning that add value to your existing education and enhance your employability. You will learn in-demand skills and knowledge and benefit from flexible options including different delivery modes, durations and start times.
Badge
This microcredential is issued in the form of a digital badge. Data embedded in the badge identifies the institution that issued it, along with the competencies, evidence and criteria that was required to earn it. Earners can display their badges on social media sites, electronic portfolios and resumés.
Your Career
This microcredential is intended for working journalists in Canada who want to upskill and reskill their reporting strategies using an Equity, Diversity and Inclusion (EDI) lens. Upon completion of the microcredential, you will have created a portfolio that demonstrates the use of EDI-informed techniques grounded in the legal and ethical frameworks, standards and principles of journalism in Canada.
Modules, with past guest speakers
Module 1: Introduction to the Core Values of Inclusive Journalism
Guest Speaker: Kathy English is a veteran journalist and current chair of the board of the Canadian Journalism Foundation. Through its Indigenous and Black Journalist Fellowship programs, the Foundation provides opportunities to foster and encourage a diverse Canadian media. Kathy recently departed from the role of VP Content Integrity and Editorial Standards with Dotdash Meredith, America's largest digital and print publisher. In that role she worked closely with the Director of Anti-Bias Initiatives (direct report) to create inclusive, bias-free content across Dotdash Merdith brands and develop strategies and policies for inclusive content. Kathy is a former public editor of the Toronto Star, serving in that role from 2007-2020 as reader advocate and liaison between the Star and its audience. In 2020, she was a journalism fellow at the Reuters Institute for the Study of Journalism at Oxford University, where she produced a research paper on the potential role of the public editor in holding newsrooms to account for diversity, equity and inclusion imperatives. Kathy has worked as a reporter and editor in six Canadian daily newsrooms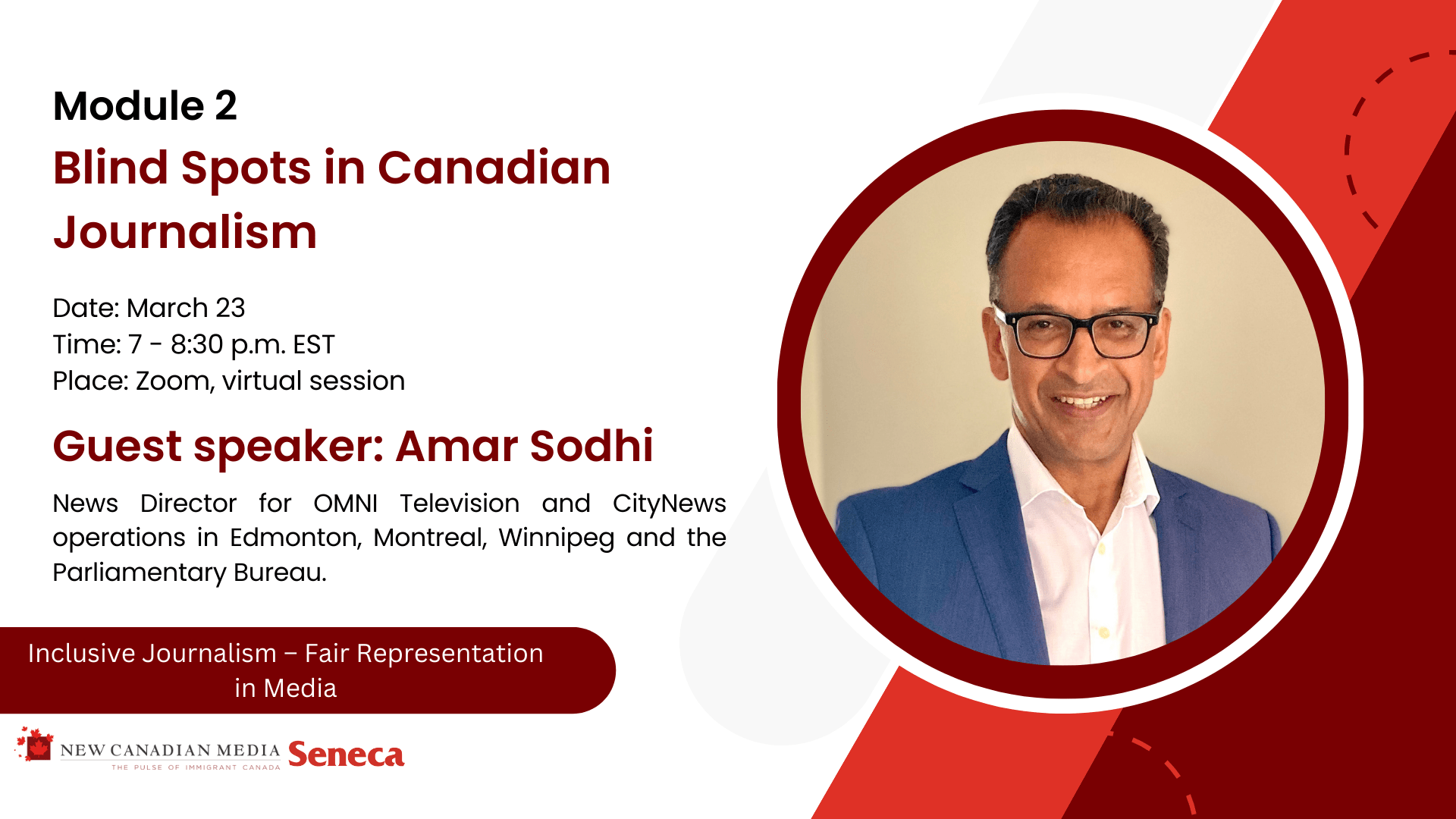 Module 2: Blind Spots in Canadian Journalism
Guest Speaker: Amar Sodhi is the News Director responsible for OMNI news, CityNews operations in Edmonton, Montreal, Winnipeg and the Parliamentary Bureau. He also leads Inclusion and Diversity initiatives for all news platforms. Over the last two years, CityNews has created a specialized diversity training program focused specifically for journalists and created an inclusive coverage guide, which provides editorial guidelines for covering equity-deserving groups; a national diverse experts list to improve representation of BIPOC voices and content audits to track and measure performance in covering diversity related content.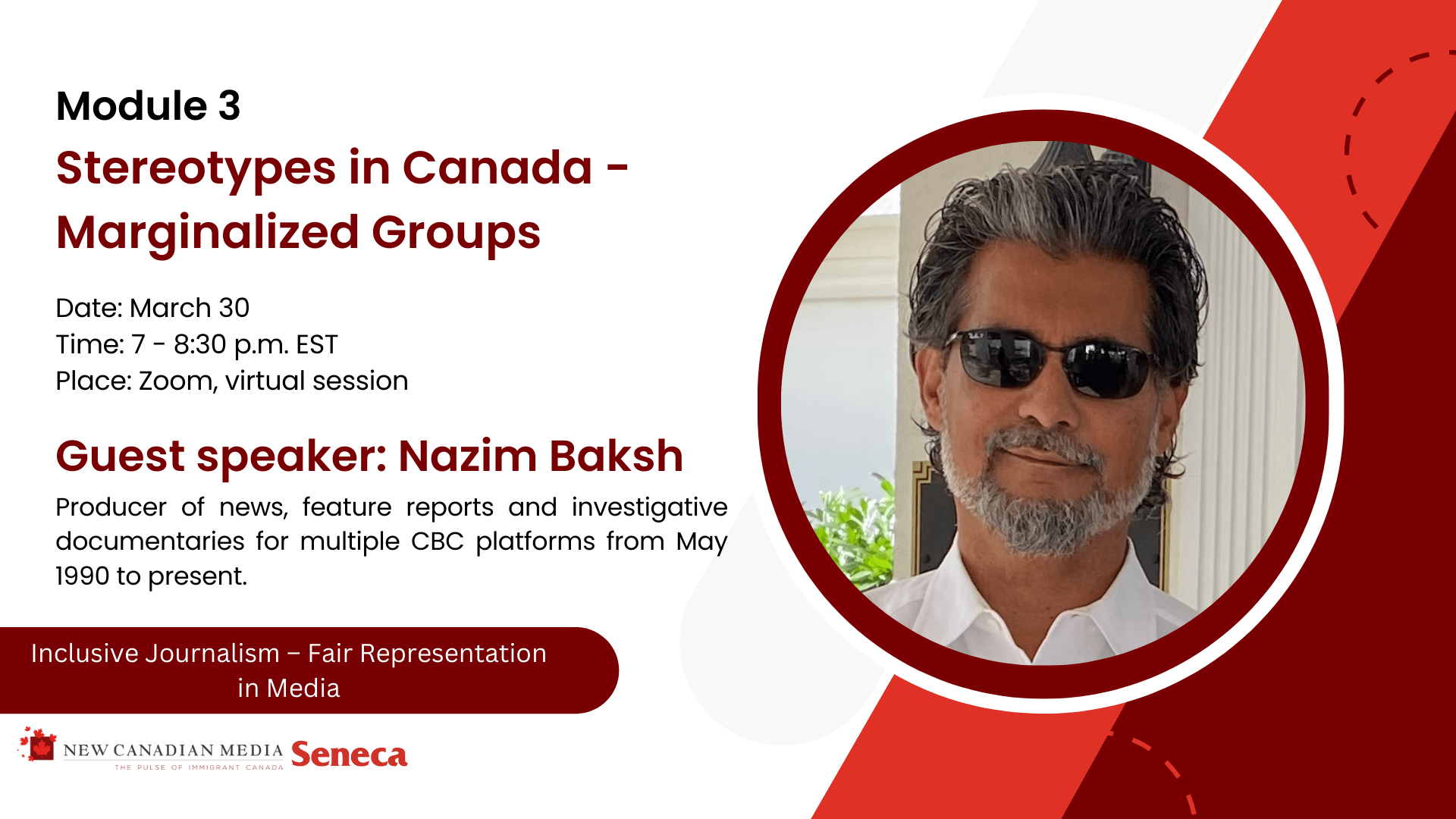 Module 3: Stereotypes in Canada – Marginalized Groups
Guest Speaker: Nazim Baksh has been producing news, feature reports and investigative documentaries for multiple CBC platforms from May 1990 to present. He has covered a range of subjects but has distinguished himself by cultivating a niche of his own in the national security space. Nazim has produced stories pertaining to violent religious extremism and right-wing ideologically motivated hate and racism, and more recently, the plight of international Indian students in Canada who were "Sold a Lie," a Fifth Estate episode that aired on September 29, 2022. As an unofficial CBC resident "expert" on Islam, Muslims and the Middle East, Nazim has become adept at informing story selection and production so as to avoid bias, stereotypes and racism.
Module 4: Stereotypes in Canada – Indigenous Peoples
Guest Speaker: Eden Fineday is a nehiyaw iskwew (Cree woman) from the Sweetgrass First Nation in Treaty 6 Territory and the publisher at IndigiNews. She writes the weekly newsletter for subscribers and a regular column on www.indiginews.com. She endeavours to be a good relation as an uninvited guest on the territories of the xʷməθkʷəy̓əm (Musqeum), Skwxwú7mesh (Squamish) and Sel̓íl̓witulh (Tsleil-Waututh) Peoples.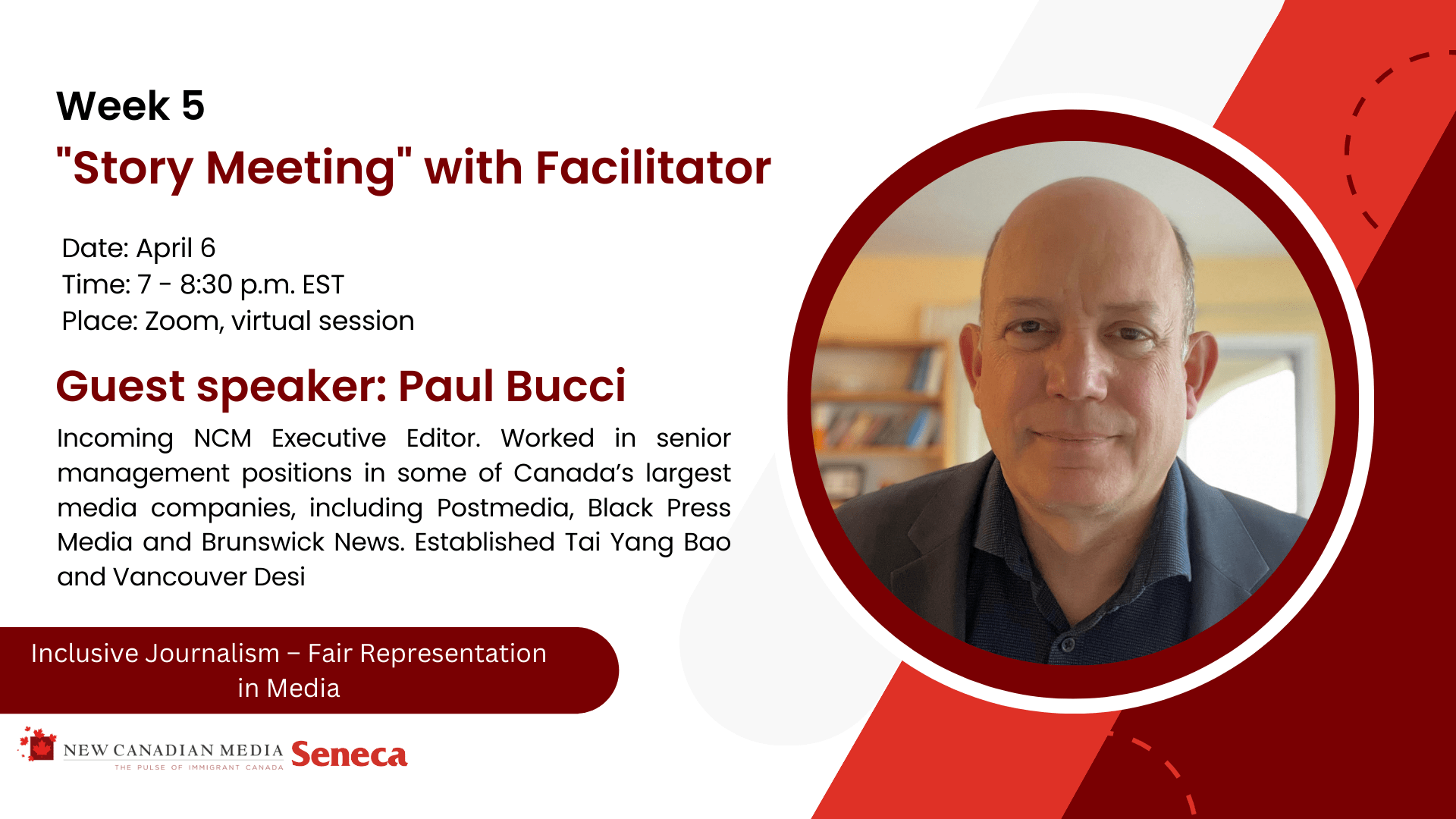 "Story Meeting" with Facilitator
Guest Speaker: Paul Bucci is an award-winning journalist and editor who has worked in senior management positions in some of Canada's largest media companies, including Postmedia, Black Press Media and Brunswick News. Accomplishments at Postmedia included establishing Tai Yang Bao, a Chinese-language online news publication and Vancouver Desi, a publication for South Asian audiences.
A former legislature journalist with reporting stints in Somalia and Bosnia, Bucci has been an editor and strategist with New Canadian Media since 2022.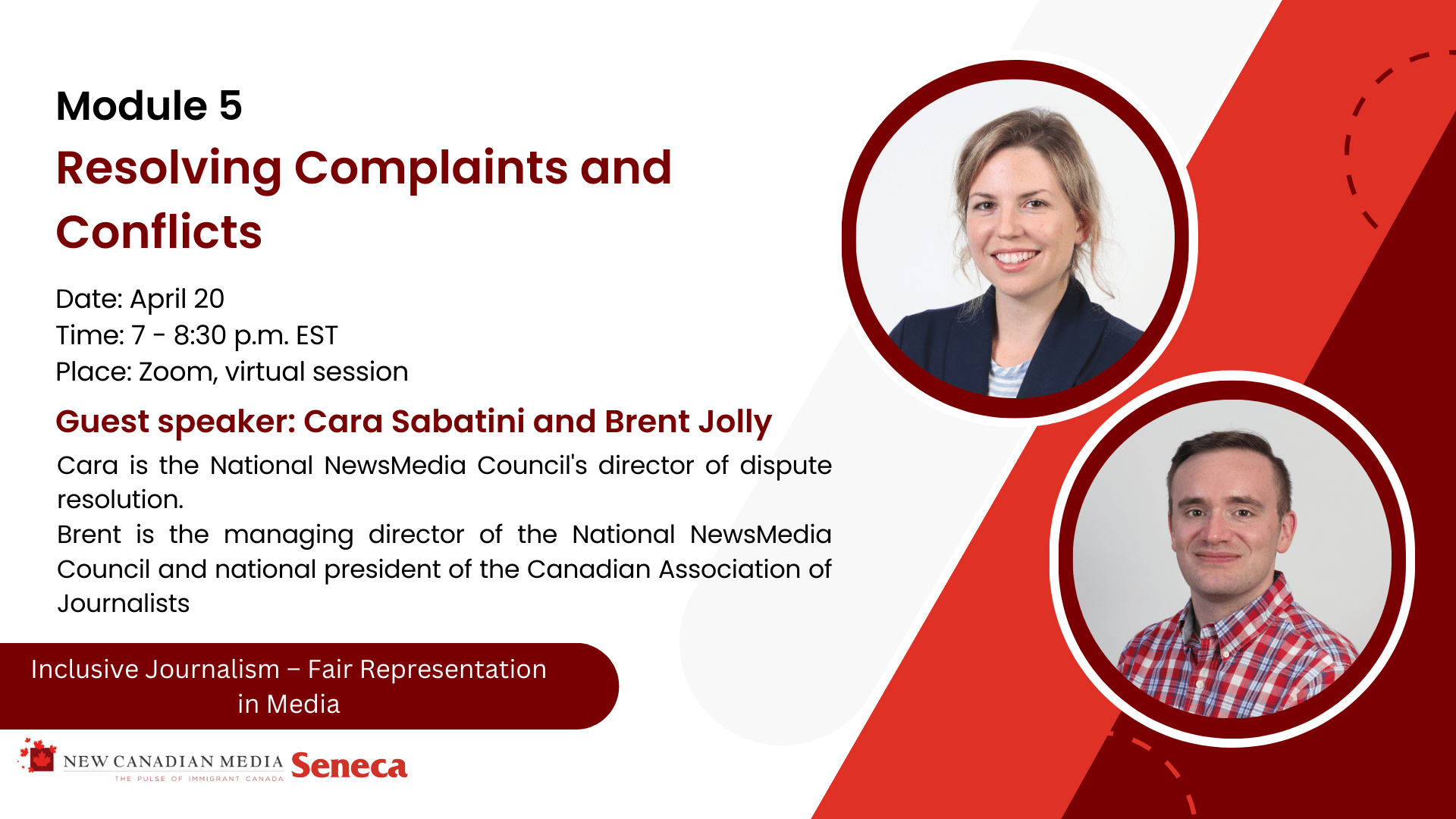 Module 5: Resolving Complaints and Conflict
Guest Speakers: Cara Sabatini and Brent Jolly
Cara Sabatini is the director of dispute resolution. She received a certificate in alternative dispute resolution from York University, and completed a program in data journalism from the University of King's. She is the co-author of the joint study with Ryerson University, 'Good News, Bad News, a snapshot of conditions at small market newspapers in Canada.'
As a freelance journalist and editor for academic manuscripts, her work primarily focuses on law and policy issues and has appeared in various North American outlets. She holds a Bachelor of Arts in Ethics, Society & Law from the University of Toronto.
Brent Jolly is the managing director of the National NewsMedia Council of Canada (NNC). Brent worked as a journalist with a variety of news outlets as both a writer and editor.
In addition to his work with the NNC, Brent also serves the national president of the Canadian Association of Journalists. He is a co-author of the study 'Good News, Bad News, a snapshot of conditions at small market newspapers in Canada'.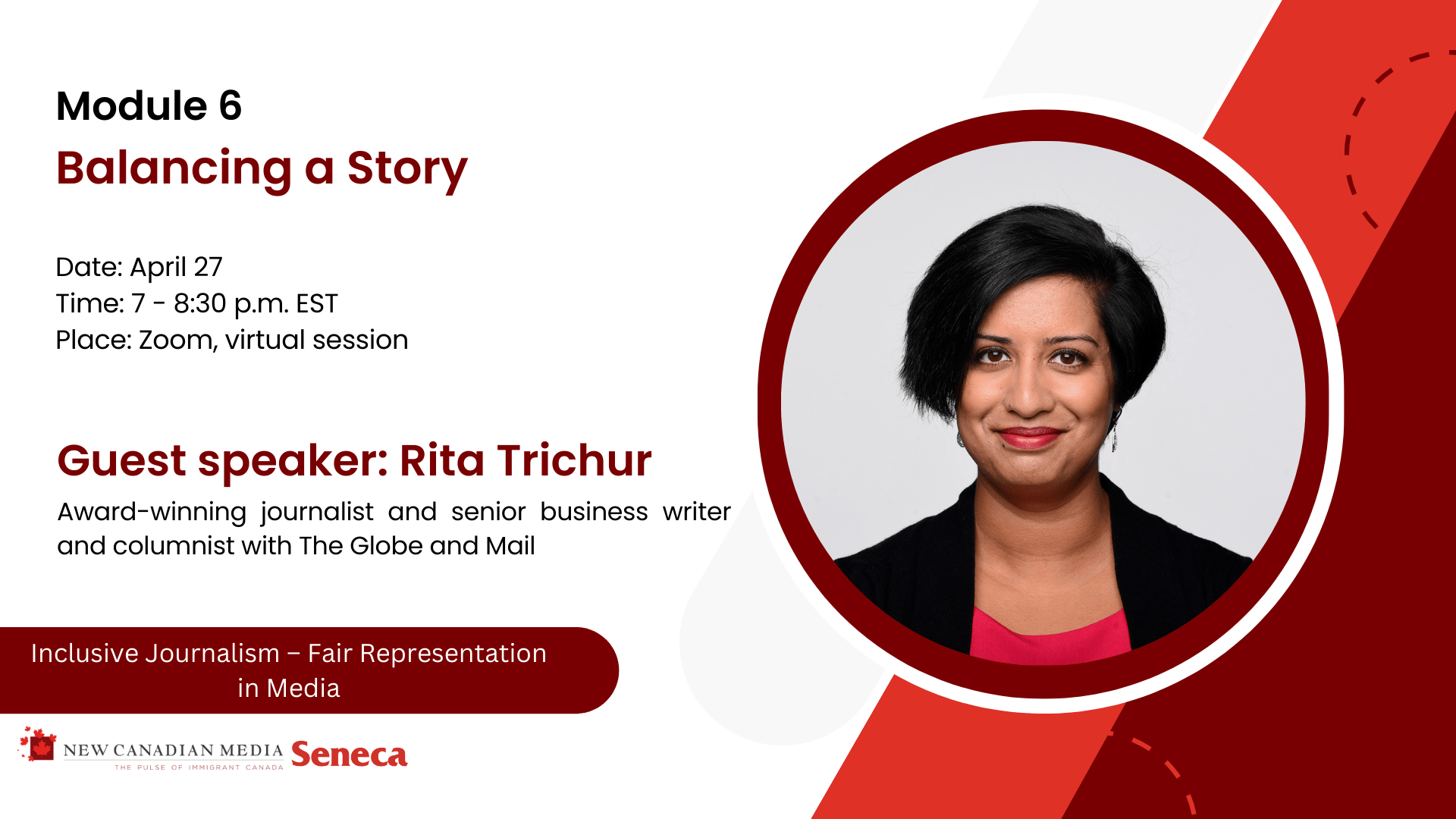 Module 6: Balancing a Story
Guest Speaker: Rita Trichur is an award-winning journalist. Her title is senior business writer and columnist with The Globe and Mail. In her current role, she writes about a variety of business issues, including corporate Canada's diversity, equity and inclusion efforts. She previously served as the newspaper's Financial Services Editor. Rita has also worked for The Wall Street Journal, the Toronto Star, the Canadian Press and the Ottawa Sun.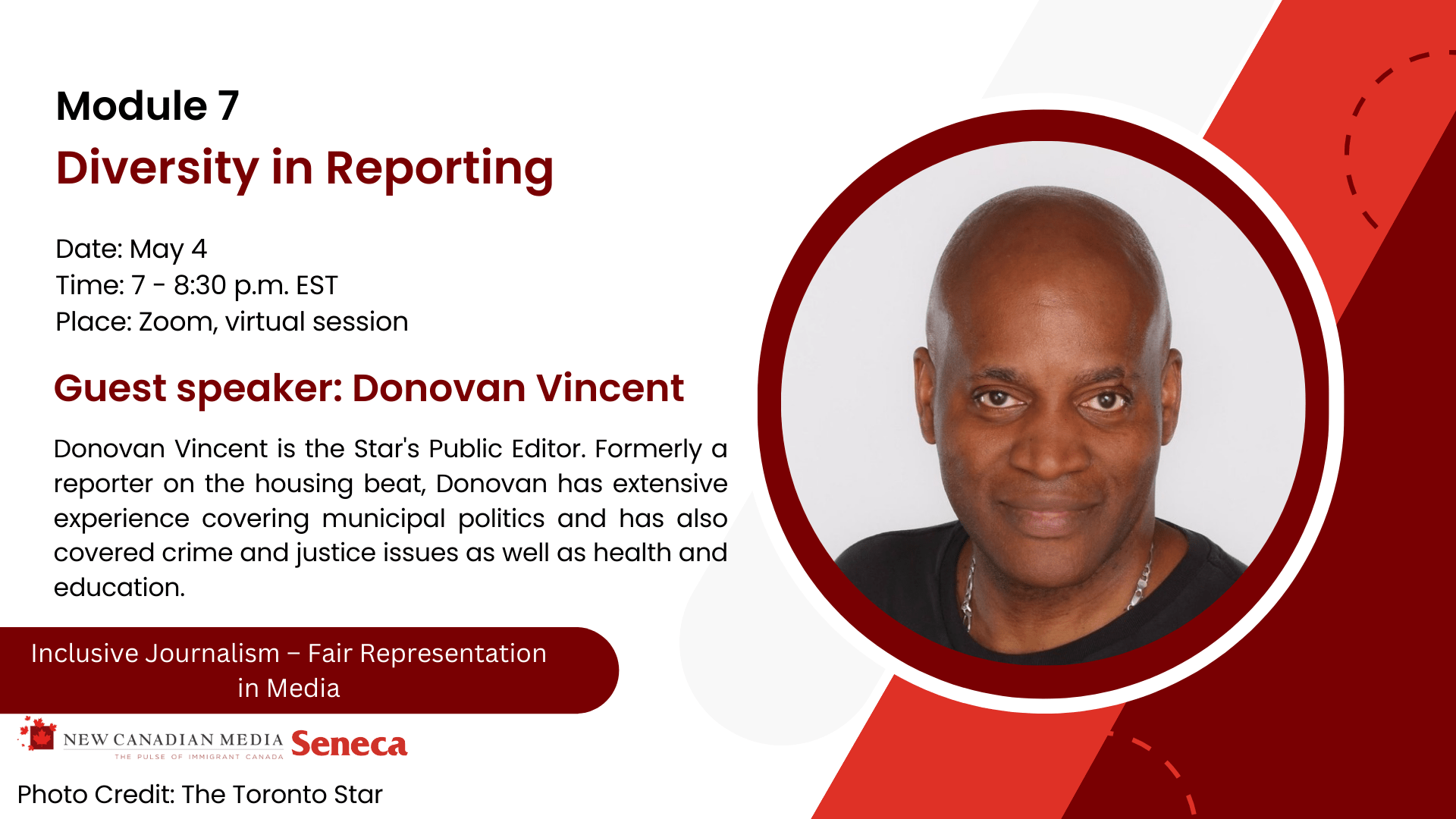 Module 7: Diversity in Reporting
Guest Speaker: Donovan Vincent is the Star's Public Editor. Formerly a reporter on the housing beat, Donovan has extensive experience covering municipal politics, having worked for several years out of the Toronto Star's city hall bureau during then-mayor David Miller's time in office. Donovan has also covered crime and justice issues for the paper as well as health and education and has written numerous long form features on a variety of topics. He studied journalism at Ryerson University earning a degree in the school's graduate journalism program. More here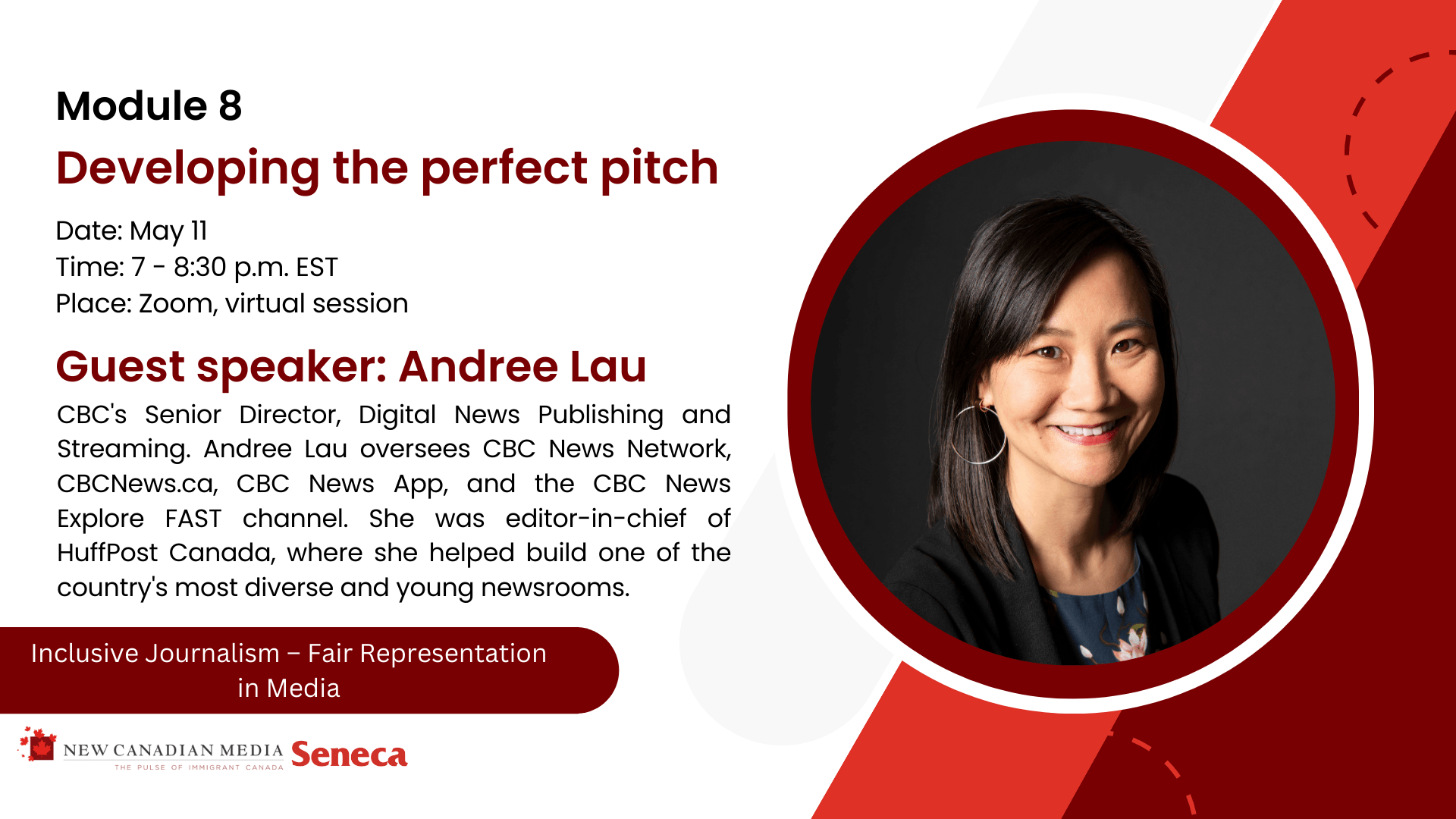 Module 8: Developing the Perfect Pitch
Guest Speaker: Andree Lau oversees CBC News Network, CBCNews.ca, CBC News App, and the CBC News Explore FAST channel. She was editor-in-chief of HuffPost Canada, where she helped build one of the country's most diverse and young newsrooms. She's worked as a TV reporter, video journalist, online writer, producer, lineup editor, and radio food columnist in nine CBC newsrooms across Canada. Andree was born and raised in Vancouver, B.C. where her parents ran a Chinese-language radio station.
Program Highlights
In this microcredential you will flow through a series of interactive modules that will develop and strengthen your fair and accurate reporting and writing techniques within the Canadian journalism industry. These techniques include:
using inclusive language to report on issues related to race, religion, ability, ethnicity, nationality, gender and sexuality, and the intersection of these identities
editing for bias to promote fair representation and reporting in Canada
analyzing the historical and present role of journalists in addressing systemic racism
acknowledging the impact of colonialism in Canada on the reporting of Black, Indigenous, and People of Colour (BIPOC), historically and presently
pitching stories that incorporate anti-racist, trauma-informed and decolonized journalistic practices
Benefits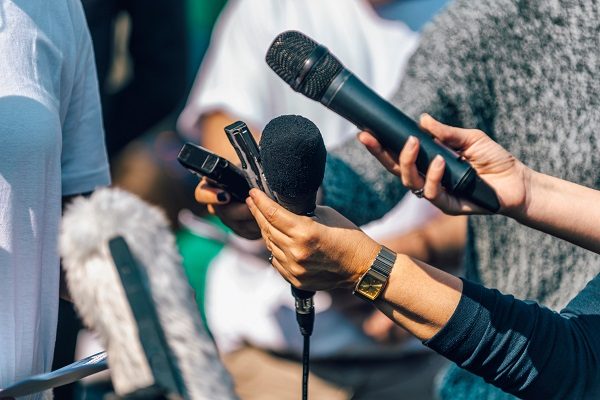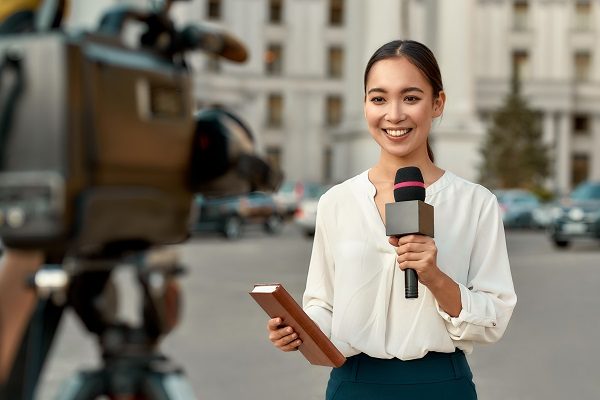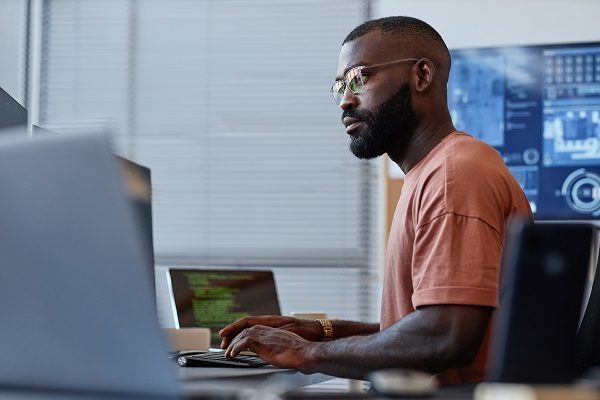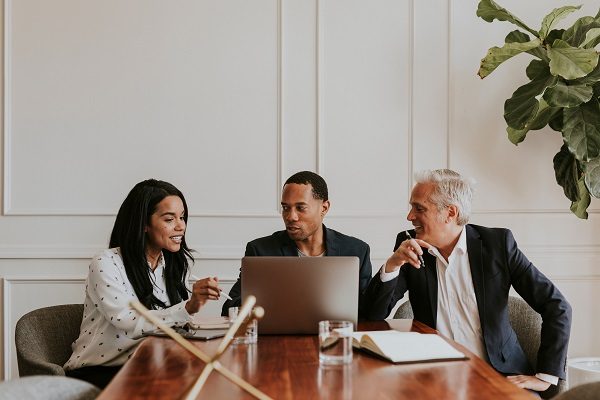 In-demand skills
Cultivate inclusive reporting skills that are increasingly in-demand by media organizations.
Relevant
Develop techniques applicable for both traditional media platforms and social media channels.
Online learning
Complete this online course through a mix of independent learning and live virtual sessions.
Industry endorsed
Developed in collaboration with media industry partners to ensure relevance and accuracy of content.
Courses
This microcredential teaches you to apply core values and ethical standards of journalism to fair and accurate investigative reporting, article and video script writing, editorial work and media production for traditional platforms and social media platforms. You will have 10 weeks to complete the microcredential, which consists of eight modules that require approximately three hours of independent learning, applied practice and live virtual sessions per module.
Skills and Competencies
identify bias through an editing process that promotes equity and fairness in journalism
generate story ideas about diversity, achievement and challenges in local communities of historically underrepresented and/or misrepresented people
develop a professional philosophy statement that articulates how the learner fairly and accurately covers groups and individuals from historically underrepresented and/or misrepresented communities
Students will also attend a mock interview with the course instructor. The students will be expected to:
present at least two news articles that they have edited for bias
pitch a story idea related to diversity, achievement and challenges in communities of historically underrepresented and/or misrepresented people
present a personal philosophy statement on equitable and inclusive reporting
Upon successful completion of this microcredential, learners will be able to incorporate these artifacts into professional portfolios in order to demonstrate their skill and competency development in these areas.