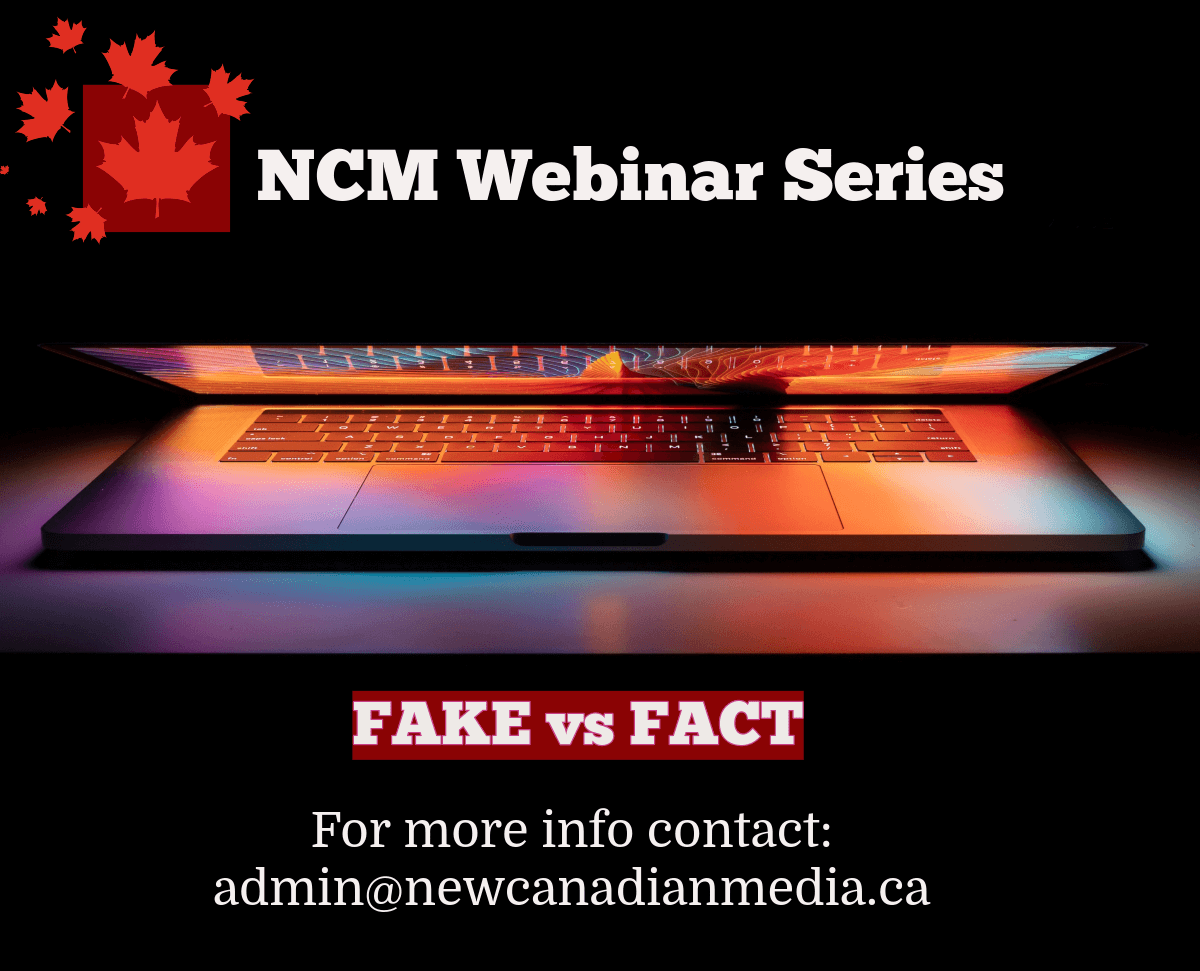 New Canadian Media is proud to present new, free educational webinars for immigrant journalists on factchecking and "fake news".
Our videos can help you:
Fact-check claims and analyze the credibility of online news sources

Use social media as an effective source of gathering and reporting news in your community

Emphasize your role as a storyteller through a review of relevant ethical codes and standards that apply to journalists in Canada. 

LANGUAGE OPTIONS: Please turn on closed captioning (CC) within the video. Click on settings and auto translate to select your desired language.
Part 1: An Introduction to Fake News
Part 2: Elections in an Age of Misinformation
Part 3: Ethical Codes in Journalism
Part 4: Spotting & Combating Disinformation
Meet Our Instructors:
Leading our lineup of instructors is Louis Baudoin-Laarman, a journalist with Agence France-Presse (a news agency that is part of the Poynter-affiliated International Fact-Checking Network). He investigates fake news reported by Canadian Facebook users and previously fact-checked for The New York Times. Check out his fake news blog.
Baudoin-Laarman will present on spotting and combating disinformation in a journalistic environment.
Prof. Ahmed Al-Rawi is an Iraq-born expert on fake news who teaches at B.C.'s Simon Fraser University. He began his media career in 2002 by serving as communications officer and later a spokesperson for the International Committee of the Red Cross in Iraq. He also worked as a freelance radio correspondent for U.S.-based radio stations and briefly as an editor for CNN Arabic bureau in Dubai.
Al-Rawi will present on diaspora communities and news manipulation with a special reference to the 2019 general election in Canada by examining the issue of Twitter bots and two case studies.  
Brent Jolly is the director of communications, research, and community management with the National NewsMedia Council of Canada (NNC). He is a co-author of the recently-released study 'Good News, Bad News, a snapshot of conditions at small market newspapers in Canada', in partnership with Ryerson University's Local News Research Project.
Jolly serves as the national vice president with the Canadian Association of Journalists; is Canada's press freedom liaison to the international chapter of the Society of Professional Journalists; and is a media, law, and policy fellow at the University of Oxford.
Jolly's interactive session will provide delegates with an overview of relevant ethical codes and then put you in the 'driver's seat' to test your ethical gravitas.
Eva Salinas is managing editor of the foreign policy news site, OpenCanada.org, and a sessional journalism instructor at Mohawk College in Hamilton.
Salinas will discuss the challenges specific to working in multiple languages with diaspora groups and international teams. 
Jagdeesh Mann is a Jack Webster Award-winning journalist and media professional based in Vancouver. For a decade, he was the Executive Editor of the Asian Pacific Post and South Asian Post – independent weeklies serving Vancouver's multicultural communities.
Now a freelancer, Mann writes for a number of Canadian news outlets: The Globe and Mail, Toronto Star, Georgia Straight, Vancouver Sun, and others. He is also the director of Sunflower Media, a digital media boutique that specialises in multicultural marketing, and a member of the NCM Collective.
Mann teams up for an interactive workshop that provides guidance on how to help audiences distinguish between fact, opinion, and deliberately fake news.
Amira Elghawaby is an award-winning journalist and human rights advocate. Along with frequent appearances on Canadian and international news networks, she has written and produced stories and commentary for CBC Radio, Ottawa Citizen, Toronto Star, the Literary Review of Canada, and The Globe and Mail. 
Elghawaby also led the creation of New Canadian Media's Ethnic Media and Diversity Style Guide. She is currently involved with several initiatives to promote civic engagement in diverse communities, as a founding board member of the Canadian Anti-Hate Network, the Silk Road Institute and as an advisor to the Muslim Youth Fellowship in Toronto.
Elghawaby teams up for an interactive workshop that provides guidance on how to help audiences distinguish between fact, opinion, and deliberately fake news.
This project has been made possible in part by the Government of Canada through the Department of Canadian Heritage's Digital Citizen Initiative, and offered in partnership with the National NewsMedia Council.